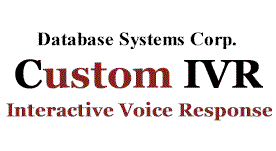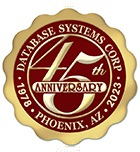 IVR Definition
Definition Of IVR (Interactive Voice Response)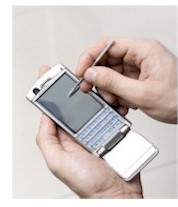 Interactive voice response (IVR) systems and services are provided by virtually all businesses and government organizations that have customers or members that need to obtain information by phone. First, lets define IVR.


What Is IVR?
"Interactive voice response, or IVR, is a computerized phone system that enables a person, typically a telephone caller, to make a selection from a voice menu. The selection is made using touchphone keypad entries or voice responses. The phone system plays pre-recorded voice prompts and the person typically presses a number on a telephone keypad to select the option associated with the voice prompt.

This interaction allows the individual to communicate with the phone system and thus the computer system to either obtain information or to process a transaction."
Database Systems Corp. (DSC) is a leading IVR company that provides IVR solutions and applications. These programs are designed by our experienced programming staff and can be developed quickly and efficiently. Since 1978, DSC has been providing computer software solutions including phone applications and call processing systems.

Contact DSC to learn more about what is IVR and our interactive voice response IVR solutions and services.



Turnkey IVR solutions include IVR phone systems, IVR software as well as IVR services. The following information is provided to assist you in learning more about IVRS and how Database Systems Corp. can provide your organization with this call processing technology.


---
DSC provides two different models of IVR systems, the WIZARD analog IVR system and the PACER digital IVR system. These phone systems are provided to clients who wish to maintain their own systems. The PACER IVR phone system is deployed throughout DSC's data centers and process all of our customers' inbound IVR calls.

The WIZARD interactive voice response system supports anywhere from 4 to 48 analog phone lines. The PACER IVR system supports 24 to 480 digital T1 phone lines. Additionally, the PACER IVR systems can be networked to provide a far greater number of digital line support.

DSC provides its own interactive voice response software library. Routines can be called from most modern computer programming languages including Visual Basic, C and C++.

This IVR software uses pre-recorded phone prompts as menus to allow callers the option to obtain information maintained in remote databases or web servers. Telephone keypad entries (DTMF signals) are gathered from the caller to collect information and to provide navigation through simple to complex IVR menu structures.

DSC custom IVR software provides information back to the caller in the form of either recorded voice messages or data that is converted realtime using our text to speech translators. The IVR can also route the caller to a representative local to the center or transfer the call to an outside telephone number.

DSC maintains its own secure data center that provides phone answering services for our customers. Using PACER IVR phone systems and IVR software, DSC provides comprehensive and affordable custom IVR solutions to virtually any size organization including government departments and businesses and corporations.

Our IVR hosting service processes incoming phone calls (usually 800 numbers or the equivalent) by presenting callers with a phone menu of items from which to choose. The IVR can process each caller's request automatically or the call can be routed to a representative of our clients.
---
Contact Database Systems Corp.
Contact Us Today to learn more about our IVR phone systems and interactive voice response services.