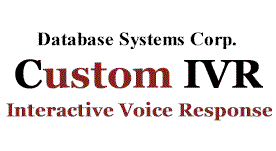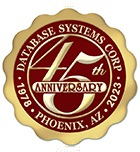 IVR Solutions
Interactive Voice Response
Database Systems Corp. (DSC) is a leading IVR supplier and provides comprehensive IVR solutions for a wide variety of industries and communities. Since 1978, DSC has been providing computer software solutions and has recently developed a series of call processing solutions.

Using the latest IVR design concepts, DSC can provide call answering applications for its service clients as well as IVR phone systems. DSC interactive voice response solutions reside in call centers or stand-alone departments requiring call processing capabilities.

DSC employs a professional staff of engineers and customer support representatives that can provide simple to complex IVR solutions including phone systems and outsourced applications. These professionals can design, develop, and implement a phone application for your organization and have it operational within a minimum amount of time.

Contact DSC to learn more about our IVR solutions and call answering services.


---
Missouri Soybean Association

"Missouri Soybean Programs facilitate the development of value-added, new generation businesses from inspired ideas through innovative implementations. Missouri soybean farmers first visualize new business ideas and present them to the Missouri Soybean staff for raw feasibility determination." - www.mosoy.org

The Missouri Soybean Association has contracted with Database Systems Corp. to provide our IVR solution to satisfy information requests from its members. Callers are given the latest information about programs and climate conditions. The Missouri Soybean Association staff can update this information from their location using our 800 number recording service.
---
IVR Solutions
DSC provides a complete line of custom IVR solutions which include phone systems, interactive voice response software, development services and hosted IVR services. The following are some of the IVR solutions available from Database Systems Corp.


---
IVR Software Toolkit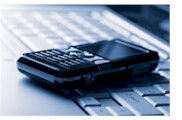 IVR software development tools are provided by Database Systems Corp. along with IVR software development services. DSC IVR software is based upon an 'Open IVR' concept. Using this advanced technique, IVR applications can reside on the actual phone system or can reside on any other application server that is networked with DSC's IVR phone system. This places the application closer to the data a resources necessary to fulfill the IVR requirements.
IVR Software Routines
DSC provides a complete IVR software programming library for its clients that allows developer to build call answering applications using common programming languages such as C / C++, Visual basic, Active-X. and .NET
IVR Systems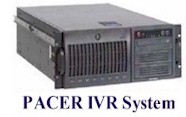 Database Systems Corp. IVR software is developed for our IVR systems and is portable. These phone applications and can be transferred to any other WIZARD analog or PACER digital phone system. Thus the investment in your phone application is not lost as your organization grows from a small analog IVR phone system to the larger digital PACER series.
IVR Hosting Services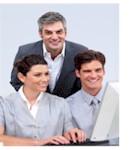 Besides offering turnkey IVR phone systems, DSC provides a wide range of IVR hosting and IVR outsourcing services. Hosted IVR is a popular program with many organizations that do not have the telecommunications equipment and infrastructure to maintain their own calling applications.

DSC maintains an off site telecom and data center that is secured in a highly redundant environment. Using our experienced IVR development teams, DSC can develop and manage virtually any sized IVR campaign to meet your IVR outsourcing requirements.
IVR Applications
IVR Applications and toll free answering solutions are becoming very popular today. Both public and private organizations are providing information to community members and clients 24 hours a day. In just a short period of time, this technology has been applied to a growing number of industries and projects.
IVR Reports

An IVR report system that analyses the ongoing performance of an IVR calling program is an invaluable management tool. These IVR reports present complete information about the calling campaigns provided by DSC and IVR systems.

Depending upon the IVR report that is selected, a unique selection criteria screen will be presented to the user to narrow the scope of the information being displayed in the report.
IVR Services
DSC provides comprehensive IVR development services for its customers. The following Systems Approach is used by our experienced IVR development team when creating a new IVR application:
IVR Simulation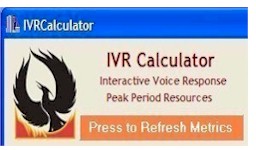 DSC has developed a unique IVR resource management program to assist our customers and prospects with sizing an IVR system. This program estimates line configurations and agent resources for their particular calling campaign.

DSC offers a FREE IVR Software Simulation service that accepts input parameters and calculates the resources required to perform a given inbound calling campaign.


---
Contact Database Systems Corp.
Contact Us Today to learn more about our custom interactive voice response solutions and applications.



IVR Features
IVR Reports
IVR Simulation
IVR Software Manual
IVR Design



IVR Systems

IVR Systems
IVR Phones
IVR Platforms
IVR Equipment
IVR Solutions





IVR Services

www.IVR-Services.com
Outsourced IVR
IVR Hosting
Hosted IVR
Answering Services





Environment

Windows IVR
Linux IVR
Dialogic IVR





IVR Info

IVR Definition
IVR Applications
IVR Information
Outbound IVRS
IVR Providers
IVR Surveys
IVR Call
IVR Hiring
IVR Orders
IVR Polls