Custom IVR Platforms
Interactive Voice Response Phone Systems
IVR Phone Systems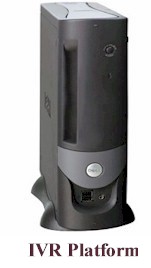 Since 1978, Database Systems Corp. (DSC) has been a leading provider of computer technology solutions. DSC specializes in the development of IVR phone systems which are composed of Intel processors with Windows OS and Dialogic computer telephony boards.

DSC IVR platforms are computer phone systems that house and control telephony cards and interactive voice response control software. As a leading IVR company and provider of call processing solutions, DSC has demonstrated a distinct expertise in the development and management of automated call answering systems.

DSC's call center phone systems feature interactive voice response (IVR) software that can be employed by your own technical staff to create virtually any custom IVR phone application. Likewise, DSC employs its own IVR platforms in its secure data center for processing automated call answering projects and IVR outsourcing programs.
IVR Platform Features
The Database Systems Corp. turnkey IVR platform includes a modern Windows PC with Dialogic IVR computer telephony cards. When combined with our extensive IVR software, these phone systems can perform both inbound call distribution as well as outbound calling campaigns.

The following IVR components are found in the Database Systems Corp. PACER and WIZARD platforms:
Dialogic Computer Telephony Boards
Intel Processors
Intel/Dialogic Telephony API Set
Windows XP Operating System
Database Systems Corp. IVR Software
DSC supports both analog and digital phone lines. The WIZARD IVR platform is our entry level call center phone system that supports analog phone lines. The PACER IVR platform can be used in environments where digital phone line support is required.

Contact DSC to learn more about our IVR platforms and supporting IVR software.


---
Customer Profile - Go To Traffic School

"Go To Traffic School is the Internet's most popular online traffic school course. We have online traffic school programs for ticket dismissal, insurance reduction, safe driver points, and fleet driver safety programs.

This program is best suited for those who have received a traffic ticket and would like to take traffic school online so that the traffic ticket does not appear on their record, those who would like to lower their insurance premiums, and those who need to take a driver safety course for their work. ." - www.gototrafficschool.com

GoToTrafficSchool.com utilizes our digital IVR platform to provide automated IVR testing for their students. Student enrollees can complete their driving school tests online or over the phone.
---
Advanced IVR Platforms
DSC provides two different IVR platforms for its customers. The WIZARD IVR system supports analog phone lines. The PACER IVR platform supports one or more T1 (digital) phone lines.
Analog IVR Platform (WIZARD)
The WIZARD is our entry level analog phone system. This is a turnkey yet affordable and expandable IVR phone system. Features include our easy to use IVR Wizard software that leads you step by step through the development of your own custom IVR applications.

The 4 line analog IVR platform includes our setup software or comes optionally with our comprehensive IVR software development toolkit.

This IVR platform can be programmed by your own staff or by our experienced and professional IVR development team who can provide you with a custom IVR application. These portable IVR applications can be easily moved to our digital PACER phone system when your call volume requires a larger system.
Digital IVR Platform (PACER)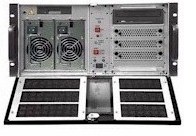 DSC also provides IVR solutions for medium to large scale phone centers with our PACER phone system. These advanced call center IVR platforms allow customers to call your organization from anywhere in the country.

Our PACER digital IVR platform supports multiple digital T1's with capacity from 24 to 480 phone lines per system. These systems can be networked to provide call applications for virtually any sized call center or phone answering center. With our "Open IVR" network approach, IVR application can be developed on separate servers that control the flow of information and the transfer of inbound calls.
Contact Database Systems Corp.
Contact Us Today to learn more about our custom interactive voice response systems.