IVR Equipment
Interactive Voice Response Systems
IVR Phone Equipment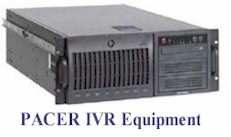 IVR equipment includes a computer phone system that houses and controls telecommunications resources (computer telephony cards) and hosts the IVR management and control software. Database Systems Corp. (DSC) has been a leading IVR vendor and has been providing computer software solutions since 1978.

DSC provides IVR phone systems which feature interactive voice response (IVR) software and telecommunications boards from Intel and Dialogic software IVR solutions.
IVR Equipment
The Database Systems Corp. IVR equipment includes a modern Intel / Windows PC with telephony cards from Dialogic. When combined with our extensive IVR software, these phone systems can perform both inbound call distribution as well as outbound calling campaigns - concurrently.

The following IVR components comprise the PACER and WIZARD phone systems:
Intel Processors
Windows XP Operating System
Dialogic Computer Telephony Boards
Intel/Dialogic Telephony API Set
Database Systems Corp. IVR Software
The WIZARD Interactive Voice Response system is our entry level call center phone system that supports analog phone lines. If your calling center requires more lines, our PACER IVR platform can be used in environments where digital phone line support is necessary.

Contact DSC to learn more about our custom IVR phone equipment and IVR development services.


---
National Small Business Alliance (NSBA)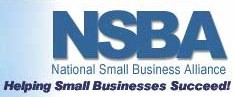 "The National Small Business Alliance was established by lifelong entrepreneurs who know first hand the challenges small business professionals face in today's fiercely competitive environment. To address these unique needs and requirements, NSBA has established relationships with major suppliers to provide the same discounts and privileges generally reserved for much larger organizations." - www.natlsba.com

NSBA utilizes our interactive voice response phone equipment to process incoming calls from registered clients. The help desk phone system answers frequently asked questions (through touchphone menu responses) and prompts the caller for an account number if the caller needs to speak with a customer support member. The call is then transferred to an agent.
---
PACER Digital IVR Equipment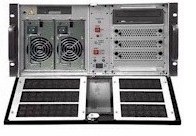 DSC provides IVR equipment for medium to large scale phone centers with the PACER phone system. Business phone systems and toll free answering systems (generally 800 numbers and their equivalent) are very popular for service and sales organizations, allowing customers and prospects to call your organization anywhere in the country.

The PACER phone system supports multiple digital T1's with capacity from 24 to 480 phone lines. These systems can be networked to provide call applications for virtually any sized call center or phone answering center. Using an 'Open IVR' network approach, IVR applications can be developed on separate servers that control the flow of information and the transfer of inbound calls.
WIZARD Analog IVR Equipment
DSC offers a complete, affordable and expandable turnkey IVR system called the WIZARD phone series. Features include an easy to use IVR Software that leads the developer step by step through the creation of custom phone applications.

The 4 line IVR system includes a Wizard setup program or comes optionally with a comprehensive IVR software development toolkit.
IVR Equipment Features
Industrial Quality PC (Monitor Optional)
Intel/Dialogic Telephony Card(s)
PACER supports 24 - 480 Digital Lines Per System
WIZARD support 1 - 96 analog phone lines
Integrated IVR / ACD software
Multiple Networked Systems Working In Parallel
Windows OS
Multiple IVR Scripts
IVR Software Development Libraries
Text To Speech Integration
Touch Phone Navigation
Hearing Impaired TDD / TTY Phone device support
Call Monitoring and Recording
Message Forwarding
Contact Database Systems Corp.
Contact Us Today to learn more about our custom IVR equipment.