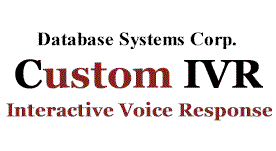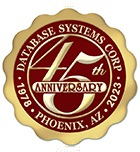 IVR / ACD
IVR and Call Distribution Integration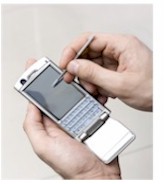 IVR (Interactive Voice Response) is a technology that allows users (usually callers) to obtain information from a phone system without the assistance of an operator. ACD (Automatic Call Distribution) technology automatically routes calls to phone agents based upon organizational rules.
Database Systems Corp. (DSC) provides two different types of call processing phone systems. The PACER digital phone systems and the WIZARD systems (which support analog phone lines) both incorporate ACD sofware. DSC has integrated its IVR program with the ACD that is an inherent feature of these modern phone systems.
What Is IVR / ACD Integration?
Upon receiving a call, the ACD system uses the DNIS (Dialed Number) to check the necessary rules for processing a call on this number. If it defined, an associated IVR program is invoked by the ACD. The IVR Client process invokes a server process on the application server and starts a two-way communication with the IVR Server.

An IVR program controls the flow of the IVR script by prompting the caller and requesting key input or directing the caller to another ACD call routing path, extension, or voice mail. In the process, this IVR program can perform any application function including customer information lookup, transaction processing, etc.

The IVR can also initiate outbound calls and prompt the called individual with the same messages (and text) and accept phone key input from this individual as well. The caller and called individual can likewise be "connected".
Contact DSC to learn more about our custom IVR systems that is integrated with DSC's ACD solutions.


---
OneSite Property Management Systems
"OneSite is an on-demand property management system that streamlines site-based business processes such as screening, leasing, and resident management, and automates back-office accounting and portfolio management." - www.realpage.com

OneSite Property Management Systems utilize our IVR and ACD integrated phone system to automatically process incoming phone calls from potential real estate leasing clients and renters when the propery manager is not available. This product is referred to as the Virtual Leasing Assistant. Our automated phone secretary responds to each call and automatically directs the caller to a voice mail or call center based upon the type of real estate question or service required.
---
Contact Database Systems Corp.
Contact Us Today to learn more about our custom IVR (interactive voice response) systems and services.