Custom IVRS Systems
Interactive Voice Response Systems
IVRS Phone Systems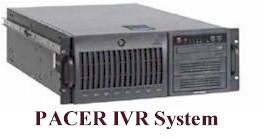 Database Systems Corp. (DSC) has been in business since 1978 and provides businesses and government organizations call center phone systems. These systems are capable of automatically answering phone calls as well as broadcasting voice messages.
An IVRS (Interactive Voice Response System) is a computer telephony system that manages incoming phone calls. Modern IVR systems contain independent processing capability along with telecommunications boards to process phone functions. This allows the IVR system to manage multiple incoming calls at once. The DSC IVR phone system integrates an Intel processor with one or more computer telephony boards from Dialogic. These modern IVR solutions can handle hundreds of simultaneous phone calls and can be networked to handle thousands of calls at once.

DSC has developed internally all of the software necessary to accomplish this integration. DSC has likewise developed a host of custom IVR phone applications to satisfy the requirements of its customers.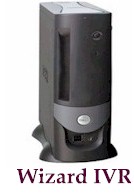 DSC is a leading provider of IVR phone systems, but also provides automated call answering services to its outsourcing clients. IVR systems from DSC blend state-of-the-art telecommunications equipment with DSC's own award winning IVR software.

An Interactive Voice Response System (IVRS) allows a person, typically a telephone caller, to select an option from a voice menu and interact with a call handling system. This process can be a simple information lookup or can be a complex business transaction. Generally an IVR system plays a pre-recorded voice prompt and the caller presses a number on a telephone keypad to select an option.

DSC also provides complete IVR software services and IVR applications development. From simple to complex phone applications, DSC personnel can design, develop, test and implement phone campaigns quickly and have a phone program in place with a minimal amount of time.

Contact DSC to learn more about DSC's custom IVR systems, outsourcing services and development programs.
PACER Digital IVRS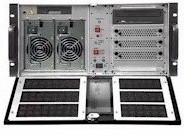 DSC provides turnkey IVR phone systems for medium to large scale phone centers using its PACER IVR phone system. Business phone systems and toll free answering systems (generally 800 numbers and their equivalent) are very popular for service and sales organizations, allowing customers and prospects to call your organization anywhere in the country.

The PACER IVR phone system supports multiple digital T1's with capacity from 24 to 480 phone lines. These systems can be networked to provide call applications for virtually any sized call center or phone answering center. Using an 'Open IVR' network approach, IVR applications can be developed on separate servers that control the flow of information and the transfer of inbound calls.
WIZARD Analog IVRS
DSC offers a complete, affordable and expandable IVR system called the WIZARD IVR phone series. Features include an easy to use IVRS Software that leads the developer step by step through the creation of custom phone applications.

The 4 line IVRS system includes a Wizard setup program or comes optionally with a comprehensive IVR software development toolkit.


---
The American Red Cross

"The American Red Cross is a humanitarian organization that provides emergency assistance, disaster relief and education inside the United States, as part of the International Federation of Red Cross and Red Crescent Societies.

Today, in addition to domestic disaster relief, the American Red Cross offers compassionate services in five other areas: community services that help the needy; support and comfort for military members and their families; the collection, processing and distribution of lifesaving blood and blood products; educational programs that promote health and safety; and international relief and development programs." - www.redcross.org

Database Systems Corp. was selected by The American Red Cross to provide our WIZARD call processing phone system for it's community and employee notification requirements. The American Red Cross uses this IVRS to send recorded messages to employees and emergency response personnel during a disaster. Using DSC's inbound IVR and voice broadcasting on this system, American Red Cross personnel can record messages over the phone and transmit these messages to selected groups.
---
IVRS Features
Industrial Quality PC (Monitor Optional)
Intel/Dialogic Telephony Card(s)
PACER supports 24 - 480 Digital Lines Per System
WIZARD support 1 - 96 analog phone lines
Integrated IVR / ACD software
Multiple Networked Systems Working In Parallel
Windows OS
Multiple IVR Scripts
IVR Software Development Libraries
Text To Speech Integration
Touch Phone Navigation
Hearing Impaired TDD / TTY Phone device support
Call Monitoring and Recording
Message Forwarding
Contact Database Systems Corp.
Contact Us Today to learn more about our custom IVRS systems and outsourcing services.



IVR Features
IVR Reports
IVR Simulation
IVR Software Manual
IVR Design



IVR Systems

IVRS Systems
IVR Platforms
IVRS Equipment
IVRS Solutions
IVR Components





IVR Services

IVRS Services
Outsourced IVRS
IVRS Hosting
Hosted IVRS
IVRS Software
Answering Services





Environment

Windows IVR
Linux IVR
Dialogic IVR





IVR Info

Define IVRS
IVRS Applications
IVRS Technology
Outbound IVRS
IVRS Providers
Telephone Surveys