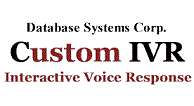 IVR Systems And Services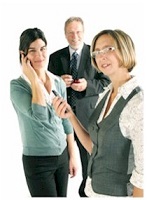 Database Systems Corp. (DSC) provides call center technology including the latest call processing systems and services. DSC specializes in automatic phone technology including interactive voice response (IVR) phones and outsourcing services.

Whether your organization needs to purchase an IVR system or utilize hosted IVR service, DSC can develop a custom IVR solution that meets your phone answering requirements.

DSC provides custom IVR application development services such as phone surveys.

If you have an IVR application that needs to be developed or hosted at our call center, please contact us by submitting your requirements online through our IVR Registration form.

Contact DSC to learn more about our custom IVR systems and IVR services.
Custom IVR Solutions
Database Systems Corp. provides a complete line of custom IVR solutions. These include phone systems, software development services and hosted IVR. The following are some of the programs available from DSC.


---
IVR Hosting

DSC maintains its own secure data center that provides IVR services for our customers. Using PACER phone systems and IVR software, DSC provides comprehensive and affordable custom IVR solutions to virtually any size organization including government departments and businesses and corporations.

Our IVR hosting service processes incoming phone calls (usually 800 numbers or the equivalent) by presenting callers with a phone menu of items from which to choose. The IVR can process each caller's request automatically or the call can be routed to a representative of our clients.

IVR Systems

DSC has developed two series of IVR telephone systems, the WIZARD analog phone and the PACER digital phone system. These complete call processing phone systems are provided to our clients who wish to own and maintain their own system. PACER phone systems are also used exclusively at our own call centers for handling all of our clients' inbound call applications.

The WIZARD system supports 4 to 48 analog phone lines, wherease the PACER system can support from 24 to 480 digital phone lines. The PACER systems can be networked to provide a far greater number of digital line support.

IVR Software

DSC has developed a unique IVR software library that can be embedded within most programming languages including C and C++.

This IVR software uses recorded voice prompts as menus to provide callers with information maintained in the application or in remote databases or web servers. Telephone keypad entries (DTMF signals) are gathered from the caller to collect information and to provide navigation through simple to complex IVR menu structures.

DSC custom IVR software provides information back to the caller in the form of pre-recorded voice messages or data that is converted realtime using our text to speech translators. The IVR can also route the caller to a representative local to the center or transfer the call to an outside telephone number.

IVR Applications

DSC has developed many custom phone applications over the years using our own IVR software and phone systems. These applications span many different industries and community groups including schools, government organizations, businesses and private groups.

For a listing of some of our applications and clients, please visit our phone applications web page. DSC markets a telephone reassurance program called CARE (Call Reassurance) that utilizes our IVR technology.
Contact DSC
Contact Us Today to learn more about our custom interactive voice response systems and services.